UniPay2U Bangladesh Ltd
UniPay2U Bangladesh Ltd
Over 50% of global trade is made up of goods and services that are transacted via offshore financial centers. Offshore companies and/or offshore trusts are not the illicit hideaways that many would have you believe. They can in fact provide you with enormous tax savings and asset protection in a legal manner if setup correctly. They can also afford the ultimate beneficiary owner a certain degree of anonymity. Best Genius Sdn.Bhd is a licensed company providing Trust, Corporate and Financial services. The principals of the company and our advisors have extensive knowledge in all the disciplines of offshore services. Best Genius Sdn.Bhd is affiliated with and supported by a network of experts worldwide including US tax consultants, Corporate Attorneys and CPA's. Best Genius Sdn.Bhd invites enquiries and questions with regards to our services through email from our contact section of this website. All inquiries are treated in the strictest confidence as per our Terms/Privacy policy, and support offered to our clients is at no additional cost. We offer a very extensive portfolio of services which you can comprehend by reviewing our website. We abide by our values which we apply at all times to provide the necessary guidance for our mission and in our choice of business decisions.
Bangladesh Office Address
UNIPAY2U BANGLADESH LTD,
Bangladesh Office
Motaleb Tower
5th Floor(Level-6), Room No# C,
8/2, Paribag, Shahabag
Dhaka-1000.
Phone:Office: +88-02-9611840
Email : bangla@unipay2u.com
Our Bank Details
Account Name: UNIPAY 2U BANGLADESH LTD,
Bank Name: THE CITY BANK LTD
Account Number: 1401150659001
Branch Name: New Market Brach (for CASH & CHEQUE DEPOSIT)
=====================================

Account Name : UNIPAY 2U BANGLADESH LTD
Bank Name BRAC Bank Ltd
Account Number : 1535201690148001
Branch Name Elephant Road Brach (for CHEQUE DEPOSIT)

=======================================

Account Name : UNIPAY 2U BANGLADESH LTD
Bank Name NATIONAL CREDIT AND COMMERCE BANK LTD
Account Number : 00690210000326
Branch Name : NARAYNGANJ BRANCH (for CHEQUE DEPOSIT)

Malaysia Office Address
Best Genius Sdn. Bhd.
14-1 Solaris Mount Kiara,
JLN Solaris 3, OFF Jalan Duta Kiara,
Mont' Kiara, 50480 Kuala Lumpur, Malaysia.
Tel: +603 620 40732 Fax: +603 620 4073
=================================
UniPay2U offers great Customer Service and comprehensive Technical Support to each purchaser.

For Technical / Purchaser support:

Customer Care is available 24/7 by Email and provides a 16 to 24 hour response time. Our technical support email is support@UniPay2U.com. We welcome all to review our detailed frequently asked questions. Both purchaser support and FAQ's are available.

Feedback and suggestions:

Are welcome via email to admin@UniPay2U.com

Prospectus:

==============================================
Why Purchase with The UniPay2U Plan?
High rebate up to 150% in 6 months.
UniPay2U Plan is 100% backed at all times by gold in allocated storage.
Provide purchasers with a convenient and economical method of increasing their equity.
Purchasers will pay no brokerage or commission fees or service charges in acquiring Units.
Purchasers cash-in on interest returns every 30 days from the date of purchase.

==============================================

Why Preserve Gold ?


This is where you enter the text that you want to appear on your page.
Simply press the Edit button below to delete this text and enter your own.
You can format the text using several different fonts and attributes.
==============================================

How To Purchase Gold ?

This is where you enter the text that you want to appear on your page.
Simply press the Edit button below to delete this text and enter your own.
You can format the text using several different fonts and attributes.
==============================================

Why Preserve Gold ?
This is where you enter the text that you want to appear on your page.
Simply press the Edit button below to delete this text and enter your own.
You can format the text using several different fonts and attributes.
==============================================
==================================================
(Who we are, what we do)
UniPay2U

is where gold investors come to buy gold for storage in a professional bullion vault. The process is secure yet straightforward, and prices are competitive.
1.

All UniPay2U users own guaranteed professional grade gold bullion, in standard gold bar form.
2. It is stored by Via Mat in a professionally recognised bullion storage facility in Switzerland, the UK or the USA.
3. Users are able to buy and sell directly with other UniPay2U users, via UniPay2U's order board. The gold does not move. Only the ownership changes.
4.

Anyone can participate. Private individuals can use the service to buy, own, store, and later sell, professional grade bullion all at compelling prices usually available only in the professional
Safer, easier, better value
Your gold is kept in London, New York or Zurich, in specialist bullion market approved vaults operated by Via Mat.
You pay low charges which include insurance and you do not pay extra for fabrication and delivery.
You own your gold outright. Your gold is not held as a liability in a gold 'account' and there is no intermediating trust. The gold you buy is your personal tangible property, stored economically in one of the safest places on Earth.
You set the whole arrangement up in an hour or two, without any of the time consuming
procedures and hidden costs you may have experienced in trying to acquire gold.
Guaranteed gold bar quality
The gold you buy on UniPay2U is of permanently guaranteed quality because it has always stayed within the recognised storage facilities of the bullion market.
It was originally assayed* at a recognised bullion market gold refiner and at the established standard of purity for bullion (>99.5%). It was acquired from and delivered by formally recognised bullion market participants, and it stays in a formally recognised bullion vault.
Because of strict adherence to market procedures for handling bullion the bars retain their status as 'Good Delivery'. This means that professional market buyers, who pay the best prices, will accept them, which they will not ordinarily do for bars with a private custody history.
So although owned by private customers UniPay2U bars retain their full resale value, and this simple solution eliminates one of the significant costs of private gold ownership.
Use your preferred currency
UniPay2U operates a multi-currency system. You can simultaneously maintain balances in US Dollars, Euros and Pounds Sterling, and you can seek opportunities to trade gold using whichever currency is most advantageous to you at the time.
Only when you take delivery of gold does your gold holding isolate you from
the risks of the global financial system.
At UniPay2U you take immediate delivery of gold at the point of trade. At that instant your gold becomes your outright property. You are not exposed to any credit risk.
But you do not take personal custody, and this is certainly the best course.
When you take bullion away from professional market vaults the bars lose resale value because professional buyers become wary of their integrity.
Outside the recognised bullion market infrastructure you cannot take personal custody of a bar or pass it on to a new owner with both parties enjoying absolute confidence that it has not been tampered with. Although it is uncommon some bullion bars in private hands get 'drilled out'. With UniPay2U you are guaranteed that this has not happened.
The most common spot market delivery unit of gold bullion is at 400 troy ounces inconveniently large. At a $600 per ounce price one unit costs

$240,000.

Smaller delivery units cost a fabrication premium and further reduce resale value.
Minimum costs on gold shipments make them uneconomic below about

$500,000.
Privately held gold is substantially more expensive to insure than vault held gold.
Contrary to much popular belief it is rarely the case that privately hoarded gold can be used effectively at its full bullion market value in times of crisis. More effective by far is to sell foreign held gold and re-patriate the proceeds as they become needed. By storing within the UniPay2U service these problems are avoided, and the disadvantages of professional vaulting namely inaccessibility to private customers and high minimum costs are avoided too.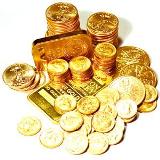 Becoming Really Rich! These days it's getting harder to become a millionaire through basic savings, speculations and other means of portfolio diversification.

What Role Does Income Play?
Surprisingly, income is not a big factor as you may think. Using the same assumptions as above, by earning US$100k a year, you would become a millionaire by age 40 instead of 59.

How could that be?
The main factor here is what Einstein called "the power of compounding Rebates" the 8th wonder of the world

UniPay2U is committed to provide our clients with the right instruments to become totally financially independent and secure. At UniPay2U every client is important. We do not profess to the thought of a "typical" client, for we believe that each and every person has his/her own individual needs, goals, concerns and aspirations.

Why UniPay2U?

We offer you the facts just as you need them, plus up-to-date information about our oldest and most-treasured element - GOLD. Whether you're involved in Gold as a buyer, seller, trader, investor, jeweler, dealer, or just curious about this most universal of metals, UniPay2U has something for you.


"We must accept finite disappointment, but we must never lose infinite hope."
Martin Luther King, Jr.
Business Plan

UniPay2U Trading Accounts:
Introducing New Trading Accounts USD 200, USD 400
Trading Account - USD 65 (1 Security Code = USD 65)
Trading Account - USD 120 (1 Security Code = USD 120)
Trading Account - USD 260 (1 Security Code = USD 260)
Trading Account - USD 520 (1 Security Code = USD 520)


UniPay2U Certificate and Brouchure:
Determine the amount of Gold you wish to purchase from 10 grams up to 600 grams depends on your Trading Account Type.


for Trading Account USD 65 - Gold Purchase Limit is 75 grams
for Trading Account USD 120 - Gold Purchase Limit is 150 grams
for Trading Account USD 260 - Gold Purchase Limit is 300 grams
for Trading Account USD 520 - Gold Purchase Limit is 600 grams

Complete the sign up section, submit the form and your purchase will commence immediately.

Below are the Company Certificate and Business Plan Brouchure